Norfolk County Council rejects leader candidate by three votes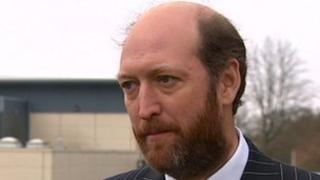 The county council in Norfolk has failed to elect a new leader triggering a new round of inter-party talks.
The Conservatives are the largest party on the council elected this month with 40 members but do not have control.
There are 44 opposition members and in the vote for a new leader the Conservative's only candidate Bill Borrett failed to get a majority.
Mr Borrett, who led the council before the election, lost the leadership vote by 43 to 40 - one person was absent.
The Lib Dems had been expected to support Mr Borrett, who had been council leader since January, but were said to be unhappy about the Conservatives' continued support for a controversial incinerator planned for King's Lynn.
Party leaders are expected to meet to find a way to work together.
The previous Conservative administration planned to build an energy from waste incinerator in West Norfolk but this created opposition from residents and the Conservative-run local borough council.
A public inquiry into the project ended last month and a decision by Local Government and Communities Secretary Eric Pickles is due later in the summer.
The council agreed on Monday by 81 votes to one that there should be a debate at a future meeting on whether to proceed with the energy from waste plan.
Officers have been asked to draw up reports setting out the need for the plant for discussion at an extraordinary meeting of the council within five weeks.
Meanwhile, acting managing director Anne Gibson said day-to-day running of the council would be in the hands of officers until a new leader is elected and cabinet posts and other responsibilities are allocated.
The council will meet again to try and elect a leader on Friday 24 May.