Tony Martin confronts thieves at his Emneth Hungate farm
10 May 2013

From the section

Norfolk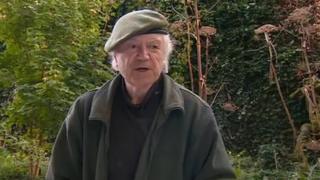 A farmer who killed a teenage burglar at his home in Norfolk 13 years ago has been targeted by intruders again.
Tony Martin, who was jailed in 2000 for shooting Fred Barras at Emneth Hungate, said two men tried to steal a pair of £90 batteries from his barn.
The 67-year-old said he confronted the would-be-burglars but they dropped the batteries and drove away.
Mr Martin said he was frustrated but decided not to take any action for fear of going back to jail.
Norfolk Police confirmed they had been called to reports of an attempted burglary at Mr Martin's farm at about 13:20 BST.
One of the men was carrying two tractor batteries, which he dropped, smashing one of them. The two men then got into the vans, Mr Martin said.
'Hand-to-hand contact'
"I was almost in hand-to-hand contact with this person yesterday," Mr Martin said. "But if you don't let them go, what are you to do?
"Had I stood in front of the vehicle he would have run me over.
"I could have jumped in the back of the van, but you don't know where you're going to end up - as soon as you start doing things like that you incriminate yourself.
"I couldn't face going through all that again.
"I haven't changed my views about what happened in 1999 but the whole experience has made me lose faith in the system and I didn't want to be made out as the criminal again.
"It isn't the first time it's happened since I've been out of prison - it's happened two or three times," he added.
Mr Martin, who no longer has a gun licence, was released from prison in 2003 after his murder conviction was reduced to manslaughter. He also wounded 29-year-old Brendan Fearon in the same incident.
The case provoked a national debate about the measures homeowners can take to defend their property.
In October last year, Justice Secretary Chris Grayling said householders who react with force when confronted by burglars would get more legal protection.
He said "grossly disproportionate" force would still be against the law in England and Wales, but the bar would be higher than the current "proportionate" force test.