'Eyesore' Westlegate tower block in Norwich redeveloped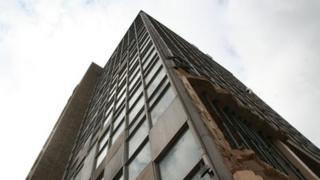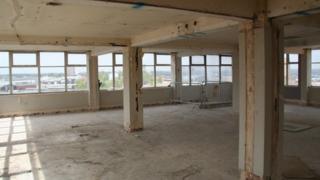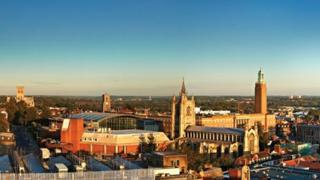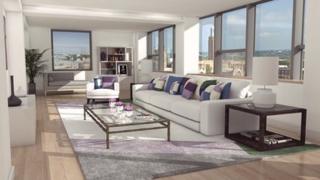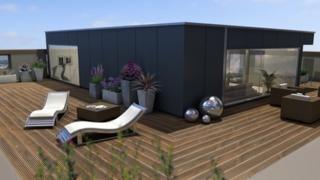 The £8m redevelopment of a tower block considered one of Norwich's worst eyesores is expected to be completed by the end of the year.
The 11-storey Westlegate House, built in 1959, is being renamed Westlegate Tower and will feature "luxury" apartments and three commercial units.
The tower previously housed offices but has been derelict for several years.
Norwich-based developer FW Properties said the project would revitalise a neglected part of the city.
Julian Wells, co-owner of the firm, said: "We feel a massive responsibility to the people of Norwich.
Panoramic views
"It's a high-profile location in the city centre. Our whole reputation rests on it - if we do a bad job, it will be here for years."
His business partner Ian Fox said: "As Norfolk residents, both Julian and I have been aware of the Westlegate 'eyesore' for many years, so we are delighted to be bringing forward its improvement.
"We want it to be a development to be proud of for years to come."
The building, with a steel frame and concrete casing, offers panoramic views across the city and beyond.
Two floors are being added and the tower will be 40m (130ft) high when complete.
Heraldic shields on the exterior will be removed and given to The Norwich Society.
Penthouse and terrace
Beneath the building was a live music venue called The Boogie House where bands including The Cure and The Specials played in the late 1970s.
The ground floor was home to a McDonald's restaurant that closed in 2006.
The redeveloped tower will have a penthouse including a sky lounge and roof terrace, expected to sell for about £1m.
There will be one apartment on each floor from three to 11, and three apartments on the second floor.
The ground and first floors will have a shop or restaurant unit.
Two townhouses, three apartments and a new shop unit will be developed on the adjacent Timberhill car park site.