Norwich hospital reorganises A&E after Easter delays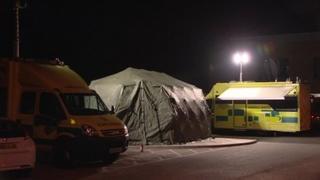 Increasing staff on duty at a Norfolk hospital accident and emergency (A&E) department could reduce significantly fines for underachieving at Easter.
Norfolk and Norwich University Hospital was criticised when 15 ambulances had to queue outside A&E on Easter Monday.
Some patients were also kept waiting for treatment inside the department for more than three hours.
Chief executive Anna Dugdale said 30% more patients than expected had arrived but A&E had now been reorganised.
The East of England Ambulance Service set up a treatment tent outside over Easter as part of a contingency plan.
It was put up as a precaution but in the end was not used, the service said.
The hospital said there had been a sudden rise in the number of seriously ill patients and a similar surge in demand had been experienced at hospitals across the region over the Easter weekend.
Staff rise to challenge
This May bank holiday more staff would be on duty and the hospital was recruiting further staff for accident and emergency duty, Ms Dugdale said.
"We are reorganising the department to deal with the ever increasing volumes of patients.
"Over the next few months we are also recruiting. People want care and they want it now.
"It's a testament to the A&E staff that they have dealt with the challenge but there are other services available especially for people who may not be so sick," she said.
"We have avoided a significant proportion of the fines over the service performance and have set out a detailed plan for dealing with ambulance handovers and delays in future."
Money on front line
About £2.5m is to be spent by the trust on reducing delays in delivering and dealing with ambulance patients at the hospital.
The money will pay for 20 new emergency department nurses and doctors.
Krishna Sethia, medical director of the NNUH said the hospital was "delighted" at the additional funding.
"Our commitment is that this money will be spent on frontline clinical staff."
Systems are in place to track the arrival of patients so their treatment can be planned.