Norwich Cathedral peregrine falcon hatches fourth chick
3 May 2013

From the section

Norfolk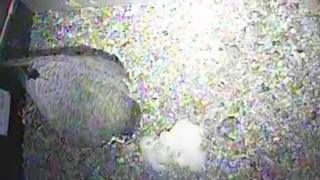 The fourth and final egg laid by a peregrine falcon nesting on Norwich Cathedral has hatched.
The birds took up residence on the side of the spire in 2011 and last year hatched three eggs - the first chicks born in Norwich for 200 years.
This year's brood was captured on a live webcam placed near the nest by the Hawk and Owl Trust.
Two were born on Tuesday, one on Wednesday, the fourth on Thursday evening.
Dave Gittens, a volunteer with the trust said: "Just moments before, [the fourth egg hatched], the male brought food to the nest but the female, who was covering the egg and three chicks, just wasn't interested.
"She then shuffled about a bit, turned around, and then pulled two still-connected halves of an egg shell from beneath her - and started to eat it, as she had done with the other 3 shells."
Peregrine falcons are one of the fastest birds in the world, achieving speeds of over 120mph (200kph).
There are currently fewer than 1,400 breeding pairs in the UK.
Although they usually favour rocky cliff tops to make their nests, pairs have bred successfully in places as diverse as a disused nuclear reactor, and on top of a building belonging to Nottingham Trent University, as well as cathedrals in both Norwich and Derby.
The webcam which captured the Norwich peregrine chicks was set up on a platform 75m (246ft) above ground by the trust, and the cathedral also has a viewing point open to the public.