Great Yarmouth suspension bridge disaster memorial tribute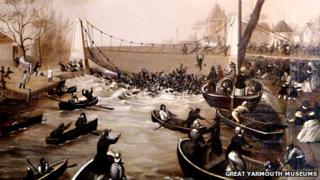 A woman who plans to install a memorial to mark the "largest recorded loss of life" in Great Yarmouth's history has released fire lantern tributes on the anniversary of those who died.
On 2 May, 1845, nearly 80 people were killed when a suspension bridge over the River Bure in the town collapsed.
Julie Staff, 55, is now hoping to raise £5,000 to create a permanent memorial in the style of a large granite book.
"The town needs something that tells the story of what happened," she said.
Thousands lined the riverbank with families packed onto the bridge to watch Nelson, a clown, journey along the River Bure in a tub pulled by four geese.
'Unique' tribute
It was supposed to be a celebration of the circus, but the party atmosphere turned to one of horror as the bridge collapsed under the weight of spectators - plunging 79 people, mostly children, to their deaths.
"Tonight I just wanted to mark the anniversary of their deaths along the riverside," said Mrs Staff, a grandmother of eight.
"We placed tea-lights in jam jars, painted by children from Great Yarmouth Primary School Academy, on both sides of the river where the bridge used to be and released lanterns."
The bridge spanned the river near to where the Swan Pub stands today on the town's North Quay Road.
A blue plaque on the pub describes the event as the "largest recorded loss of life in one single incident in Great Yarmouth's history" but does not record the people who died - something Mrs Staff, who has lived in the town for 36 years, intends to change.
"We've raised nearly £3,000 so far - it's an on-going project. The more you find out about the story, the more it affects you, even though it's years later. They way they died, it was tragic," she said.
The installation of the granite book would tell the story of the disaster on one page, with the names of all the children who drowned on the other.
"It will be the final piece of the story and good for the town to commemorate what happened," said Abbey Memorials' stone mason Kevin Durrant.
It is hoped the memorial "book" will be installed by the end of summer 2013.