Dersingham teenager upset by war memorial 'criminal damage' claim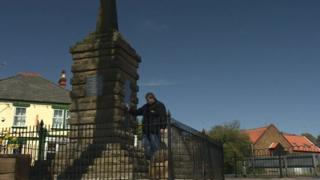 A teenager who has voluntarily looked after a war memorial for more than 10 years says he will continue the work, despite a row with the local council.
Kurtis-Ross Green, 19, began working on the memorial in Dersingham, Norfolk because he wanted to show "respect".
He said members of Dersingham Parish Council had reported him and two other volunteers to the police for "criminal damage".
No-one from the parish council could be contacted to comment.
In 2009, Mr Green received a Young People of the Year award for his work on the memorial in his home village.
'Wonderful place'
He said he had started working on the area surrounding the structure when he was nine-years-old and had helped make it a "lovely paved area suitable for disabled people".
"It's a lovely mass of colour and a wonderful place to sit and relax," he said.
Mr Green said he and his two colleagues - who he calls the "Memorial Three" - were given formal permission by Dersingham Parish Council to maintain the memorial in 2010.
Before that, he said it was "overgrown" and "looked like a jungle".
Mr Green said the police became involved when he tried to connect a pipe to the mains so he could water the flowers.
Norfolk Police confirmed it had received a complaint from the council on 14 February and said the matter had been passed to the Crown Prosecution Service.
"It's made me feel very upset and sickened to know they're trying to prosecute me for criminal damage for all the hard work and grafting that I've put into the site," Mr Green said.
"We are still carrying on with our work regardless."
Working on 'resolution'
Another volunteer, John Houston, said he had been spoken to by the police.
"I don't think it's the way it should have been done," Mr Houston said.
"They should have come speak to us first about our thoughts and views and why we did things."
A spokesperson for Norfolk Police said: "Police are aware of Kurtis' efforts in cleaning up the memorial and we will work with all concerned to try to reach an acceptable resolution."