Norfolk County Council election: Tories lose control of council
3 May 2013

From the section

Norfolk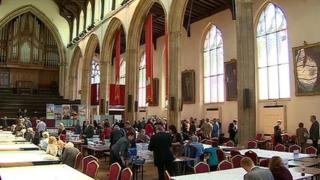 Conservatives have lost control of Norfolk County Council for the first time since 1997 after losing 20 seats.
The election saw UKIP win 15 seats while Labour won 14.
It was the first time the Green Party lost seats on the county council. They were down two seats, and now have four councillors.
The Lib Dems gained one seat, taking their total to 10.
An independent candidate won one seat.
The Conservatives took 33% of the vote, with UKIP taking 24%; Labour 23%; Lib Dems 11% with other parties receiving 9% of the vote.
UKIP prospective parliamentary candidate Anna Hamilton said: "I think this gives us an incredible launch pad for two year's time (the year of a possible general election) bearing in mind party support is going up exponentially.
"I think it will peak in two year's time."
She said UKIP is now being "taken as a serious, proper party".
Conservative leader Bill Borrett said: "We need a consensual approach going forward.
"There isn't a party on Norfolk County Council with an overall majority.
"I would like the opportunity to work with all of the councillors to get the results that Norfolk deserves.
"So I hope my consensual and collegiate approach is something that fits with what people perceive is required."