DJ Matt Howes hits high after Crete crash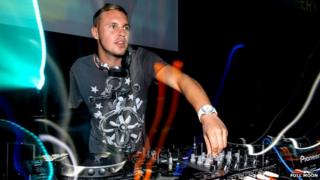 DJ Matt Howes was having the summer of his life, laying down beats on dance floors in some of the world's biggest clubbing resorts.
But the party mood turned to one of horror, as a crash on his moped while travelling across Crete meant instead of soaking up the sun, doctors were instead battling to save his life.
"I was told it was touch and go at one point - apparently if I'd have got to hospital two minutes later I'd have been dead," said the 25-year-old Norwich DJ, as he recalled his horrific accident in July 2011.
"I was turning a corner and there was an overtaking car on my side of the road which I swerved to avoid, but I went straight into a metal barrier and that was the last thing I remember.
"When I woke up in intensive care my initial reaction was I didn't realise that I'd lost my arm. My arm was practically hanging off at the seams, but I honestly thought that I'd broken it badly.
"The first person I saw was the guy that saved my life and he was crying and I was thinking, 'Why is he crying?'. Then I thought, 'This is a lot more serious than I'd thought'."
'Always someone worse off'
As his parents were on holiday, Matt's boss at the time had to give the go-ahead for his right arm to be amputated.
But after a remarkable recovery he was dispatched from hospital just a week later, and rather than turning off his decks he was back performing again to over 1,000 people two weeks after the crash.
"I DJ'ed to 1,100 people with 34 stitches in my arm which is quite cool," said Matt, who first bought some turntables at the age of 14 and spent his teenage years learning his trade on Norwich's Prince of Wales Road.
"I wasn't having it - I'm not the kind of person that just sits around and waits for stuff to happen.
"I was very close to my granddad and father who have both passed away. When I have a bad day when everyone's looking at me, I look at myself and say, 'If they were given the opportunity to come back to life but with only one arm, what would their answer be?', and their answer would always be 'Yes'.
"There's always someone worse off that you."
'Norm to me'
Rather than have his disability hold him back, the dance guru has seen his popularity go from strength-to-strength, recently grabbing a tour slot with British rapper Devlin and having a number of offers to perform in the UK and abroad.
For every Friday in May he is also taking over the airwaves on Semtex's BBC Radio 1Xtra show, from 22:00 BST, as part of the station's Xtra Talent showcase.
And rather than sitting still, he's making up for his lost summer performing in Tenerife, Mauritius, Ibiza, Serbia - and making a brave return to Crete.
"Where there's a will there's a way. I use a lot of equipment now that helps me," said Matt.
"I use different Midi controllers to give me different loops and samples so things are right there in front of me.
"There's a guy who built me a foot pedal so I could scratch again. It is hard using one arm, but now it's the norm to me - I haven't got a choice."