Police plan for Norfolk ban of super-strength alcohol
11 April 2013

From the section

Norfolk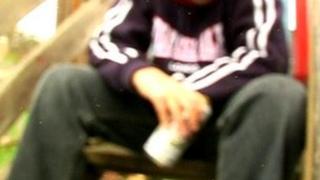 Shops across Norfolk could be asked to ban sales of cheap super-strength alcohol as local police look to replicate a scheme in Suffolk.
In Ipswich, two-thirds of off licences have taken the products off their shelves, which police say has helped to halve drink-related street crime.
Norfolk police are in the early stages of adopting the campaign.
The Co-Op says it will extend its ban on beers and ciders with more than 6.5% alcohol volume to 135 stores.
Suffolk police say the project is the first of its kind in the country and it has now been running for six months.
A spokeswoman from Norfolk police said: "This is a great idea and we have seen the positive results the scheme has had in Suffolk.
"Over the coming months we will be working with partners, including the Co-Op, to introduce a similar campaign in Norfolk."
Optional scheme
The Co-Op was the first chain to sign up to the optional scheme in Ipswich to remove any cut-price extra-strong long drinks.
Group general manager Roger Grosvenor said: "The society has 26 stores in Ipswich and obviously we faced on a daily basis quite a number of drunks sat outside our stores.
"We thought we're helping fan this by stocking the products that they're drinking.
"When the police did their research it was these types of products that were being focused on and being purchased by the street drinkers and those who wanted to get drunk quite quickly."
Research
The scheme was set up after officers in Ipswich spoke to street drinkers to find out what brands they were buying in an effort to reduce anti-social behaviour and alcohol-related crime.
Ch Insp Andrew Mason, of Suffolk Police, said it has been important to tackle the issue as one can of super-strength beer can put drinkers over the recommended daily allowance.
He said: "We now know that more people die from drinking super-strength alcohol young than using heroin."
Despite concerns about shops' profits being affected, there has been little significant impact, according to police.
"Most of the premises over a six-month period have either not lost any money, so it's cost-neutral still, or in some cases they have actually made some extra money," said Ch Insp Mason.
"The profit margin is so small that the likelihood of them losing money is small."
On Wednesday Northamptonshire Chief Constable Adrian Lee said he also wanted the scheme to operate there.