RAF Marham base for Joint Strike Fighter
25 March 2013

From the section

Norfolk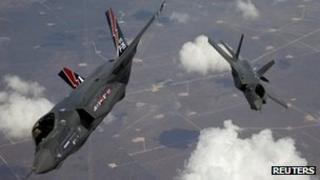 The RAF's newest stealth aircraft, the Joint Strike Fighter, will be based in Norfolk, the defence secretary has revealed.
Philip Hammond announced the decision that RAF Marham would home the aircraft on a visit to the base.
The facility, where Tornado aircraft are stationed, had been threatened with closure under the government's defence review but won a reprieve in July 2011.
The fighter is built by Lockheed Martin and will be known as the Lightning II.
Mr Hammond said that the Lightning II squadron based at RAF Marham would be a joint RAF and Royal Navy force and the station would be responsible for support and maintenance of both land-based and aircraft carrier planes.
He said: "The decision is extremely good news for the station, for the RAF, the Royal Navy and the local community.
"I hope everyone now gets behind this project during the huge amount of planning work required over the next months and years on the investment and the infrastructure needed.
"The world's most advanced fighter aircraft is to be based in Norfolk at one of the UK's most operationally experienced bases."
Jobs secured
Mr Hammond said the future of the base, where 5,000 people are employed, was secure and this was good news for the 15,000 other local jobs which relied on the station.
The aircraft had a multi-role capability with advance weaponry, the latest camera technology for intelligence gathering and short take off capability for aircraft carrier duties.
"The transition to Lightning II from the Tornado will take place over the remaining decade," Mr Hammond said.
He added: "The numbers of service personnel, contractors and civilians at the station will remain about the same and that is a great reassurance to the local community.
"Basing the new Lightning II at RAF Marham makes strategic sense and best use of the resources available."
RAF Marham Station Commander Group Captain David Cooper said he was delighted at the announcement.
"This is excellent news for my personnel, for the local community and region, and for the Royal Air Force and UK Defence."
Liz Truss, the MP for South West Norfolk, who had campaigned to keep RAF Marham open when it was threatened with closure, was delighted the new aircraft would be based there.
She said: "I'm absolutely delighted we're getting the world's most advanced fighter aircraft here at Marham and that it will be in service well past 2040.
"The long term future of the base is secured and that's important for local people and jobs.
"The Libya campaign, the £50m worth of engineering facilities, the ongoing presence in Afghanistan all highlighted the real worth of having an operational base in Norfolk.
"The close proximity to the USAF at Lakenheath and Mildenhall is an obvious advantage and with over 5,000 personnel currently working at the base, the substantial wider economic benefits to the region has been estimated at £102m."