Jewish bones burial an 'historic event' says community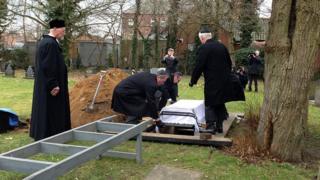 The remains of 17 people suspected to have been killed under 12th Century religious persecution, have been given a Jewish ceremonial burial in Norwich.
The bones, which include the remains of 11 children, were found piled in a well during survey work ahead of the city's Chapelfield development in 2004.
Historical evidence has indicated the remains are of Jewish descent so they have been buried on "sacred land".
About 100 people from a number of faiths attended the "historic event".
The pieces of skeleton were put into storage by the Norfolk Museums and Archaeology Service following their excavation for "delicate and sensitive" research.
The bones were collected from Norwich Castle Museum by hearse just before midday where they were covered with a tallit (Jewish prayer shawl).
'Emotional experience'
After the hearse paused outside the Norwich Hebrew Congregation Synagogue it carried the remains to the Jewish Cemetery in Earlham Cemetery for burial.
Clive Roffe, Norwich representative on the Board of Deputies of British Jews, said the service was "emotional".
"To bury 17 people at once had to be an emotional experience for all those who attended, no matter what their faith.
"The wider Jewish community is delighted we've been able to do this and after more than 800 years since they died it's a very fitting end.
"The people we buried today had a sad and brutal ending to their lives, so at least these souls are now at peace."
Norwich had been home to a thriving Jewish community since 1135 and many lived near the well site where the remains were found.
But there are records of persecution of Jews in medieval England including in Norwich.
Eleven of the 17 skeletons were those of children aged between two and 15. The remaining six were adult men and women.
Mr Roffe added: "Nothing is 100% certain, but the historical evidence leads us to believe the remains are of Jewish descent.
"That is why we have given them a burial on our sacred land.
"It feels as if the hand of destiny has allowed this opportunity to fall on us after more than 800 years. It is an historic event."
Research will continue using DNA samples taken from the remains.