Norfolk hospitals under 'severe pressure'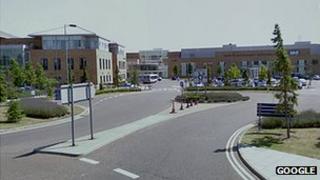 Hospitals in Norfolk have admitted cancelling dozens of operations because they are under pressure from extra patients following the long winter.
The Norfolk and Norwich University Hospital (NNUH) and Queen Elizabeth Hospital (QEH) said routine operations had been cancelled for emergencies.
The NNUH said they recognised the "anxiety" it caused patients.
The NNUH, QEH and James Paget, near Gorleston, also said they had been on black alert in the last few days.
About 80 routine operations were cancelled at the NNUH in February, the equivalent to nearly one full day's surgery. The hospital moved from black to red alert on Wednesday.
Anna Dugdale, NNUH chief executive, said: "We're extremely busy at the moment.
"It's a particularly difficult time for older people who do seem to suffer more in the winter, particularly when it's very cold.
Patient 'anxiety'
"We've seen an increase of 3% over February, compared to last February, in terms of our emergency patients admitted to the hospital which is a really significant increase to cope with.
"We hate cancelling operations as we know it causes patients a huge amount of anxiety and that it's really inconvenient."
The Queen Elizabeth in King's Lynn, on black alert, has told patients on its website it is "under severe pressure" having been affected by the norovirus and staff shortages, the hospital told BBC Radio Norfolk.
The James Paget Hospital, now on amber alert, said although under pressure it has not needed to cancel any operations.