Tenerife expats 'seek closure' after murder guilty verdict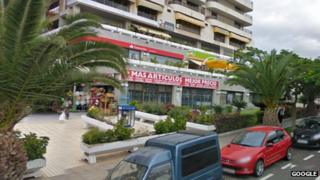 Jennifer Mills-Westley's death almost two years ago was too barbaric to comprehend: a woman stabbed and beheaded as she shopped in a supermarket.
Like many expat residents in Tenerife's Los Cristianos, she was in her 60s and had retired to the island from Britain to enjoy its year-round sunshine.
She was simply shopping in a supermarket when Deyan Deyanov picked her out at random and killed her.
Now that Deyanov has been found guilty of murder, the community will be hoping to move on from the shocking crime.
It could have been anyone, and anyone who happened to be passing in the street would have seen him walk out of the store, holding her severed head.
'Absolute shock'
British expat Colin Kirby saw just that, and initially thought it was a "crazy joke".
"People come here to relax and enjoy themselves and it just caused absolute shock," said Mr Kirby, who left Oxford 11 years ago.
"The family said they were looking for closure, and to an extent the community is looking for closure, looking to move on and put this behind them.
"People will be pleased to get past this point and then get back to normality."
Los Cristianos, with its two artificial beaches, shopping malls, bars and restaurants, has a population of just 19,000 - comparable with a town the size of Truro in Cornwall.
Many of its residents are from the UK, with 40,000 Britons on the electoral roll for Tenerife as a whole.
Mr Kirby, who works as a freelance journalist, said many Britons in Tenerife are not registered or are "swallows" - people who only live in the islands during winter.
Known as a land of "eternal spring", Tenerife is a popular tourist destination with more than 1.3m Britons visiting each year.
Sheila Collis, of English-speaking Canary Islands newspaper Island Connections, said Tenerife's steady climate offered an outdoor lifestyle not available in Britain.
"There are safe beaches, parks and gardens, and of course cheap alcohol and cigarettes," she said.
"There is a large British resident population, many of them with their own businesses, offering tourists a service in their own language.
"It wasn't that long ago that people wouldn't even bother to lock their homes when they went out.
"This wasn't a drink-fuelled brawl, which unfortunately have become increasing occurrences, but a vicious and barbaric attack on a valued member of the local community."
Concern about crime
While Ms Mills-Westley's death was clearly a highly unusual incident, Tenerife is not without its problems.
The multi-million pound holiday home business has been hit by Spain's recent economic crisis. It had also attracted criminal gangs.
British couple Billy and Florence Robinson, who ran a timeshare business on the island, were found murdered in January 2006 by hitmen who police believed had been hired by rival operators.
In February 2010, Yorkshireman Peter Cockshutt, 71, was stabbed to death at his villa on the Costa del Silencio in what police described as a bungled robbery.
Giving evidence during Deyanov's trial, Ms Mills-Westley's daughter, Sarah, said her mother had become worried about vagrants on the island.
"It was nothing specific but she was increasingly concerned that Tenerife was not as safe as when we used to visit 30 years ago," she said.
Former university lecturer Janet Anscombe, who has lived in Tenerife since 2004, has written about the Ms Mills-Westley case and her concern about crime on the island.
She wrote on her blog shortly after the incident that she was "struggling to assimilate the horror of it all".
"If there is the slightest grain of any sort of comfort to be derived from this appalling event, then it might lie in everyone's awareness being raised of the potential problems of homelessness and/or mental illness … and of some potential solutions," she said.
Speaking to the BBC on Friday, she said: "Crime is rising here badly because of the economic crisis but that nonetheless such appalling violent acts remain mercifully in the minority."