Royal Navy apologises after HMS Dauntless 'let-down'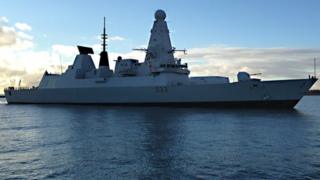 The Royal Navy has apologised after hundreds of visitors were turned away from an open day at a warship.
Some people queued for four hours to go aboard HMS Dauntless, a Type 45 destroyer, when she visited Great Yarmouth at the weekend.
But many more were turned away when it became clear the free event was hugely oversubscribed.
A Royal Navy spokeswoman apologised for any disappointment and said ticketing would be considered for future visits.
HMS Dauntless, which cost more than £1bn, has been affiliated with Great Yarmouth since 2010 and arrived at the town's Outer Harbour on Friday.
Its crew paraded through the town on Sunday and attended a special church service and the ship was opened to the public.
People started queuing for the event at 09:00 GMT and, by the time the ship opened at 10:00 GMT, hundreds were already waiting.
Ray Roos, 63, of Brisley, near Dereham, said he and his son Richard, 35, arrived shortly after 11:00 GMT but they were told they would not get on the ship because too many people were already queuing.
He said: "It was disappointing. If they organise warfare like that, God hep us."
A Royal Navy spokeswoman said by 11:00 GMT, it was clear the event was oversubscribed.
She said: "Rather than just allowing people to sit there, we made the decision to close the entry to anybody else.
"We're very sorry that some people were disappointed. We will look at ways of addressing that, possibly by ticketing, so it remains free."
About 1,000 people were allowed on the ship.
"It's been an enormously successful visit, this aside," the spokeswoman said.
"The crew were really honoured and grateful to the people of Great Yarmouth for giving them so much support."