Swaffham Waitrose cafe car crash leaves driver injured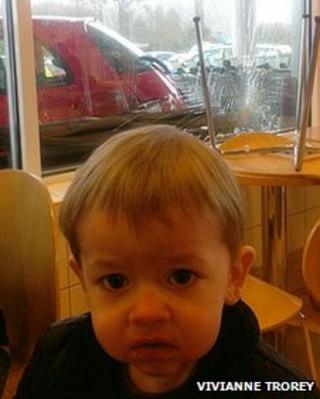 An elderly woman was injured when she reversed her car into a Waitrose supermarket window.
Police said a Ford KA crashed into the Swaffham store on Wednesday lunchtime, smashing the window of its cafe.
Witness Vivianne Trorey said: "We heard a car revving and all of a sudden we heard a bang. It hit an outside bench and just carried on reversing."
Waitrose said its first aiders attended to the driver and it was assessing the damage.
Mrs Trorey said she had to grab her great nephew Jenson Lusher out of his high chair as the car crashed just yards away from him.
"If the bench wasn't there, I don't know what would have happened," she said.