Norfolk council ex-leader not contesting next election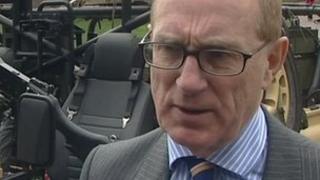 The Conservative ex-leader of Norfolk County Council is not going to contest the next election.
Derrick Murphy was found to have brought the office of leader into disrepute at a standards hearing.
The councillor for Freebridge and Lynn division in west Norfolk is not going to stand for election in May.
A standards committee ruled on Friday that Mr Murphy should receive training in ethics. He had already stepped down as council leader.
But he was cleared of various other accusations relating to an email sent to the BBC disparaging Nick Daubney, Conservative leader of West Norfolk Council.
Mr Murphy, who has also resigned as Conservative group leader on the authority, had been set to contest the Forehoe seat in south Norfolk.
Mind made up
His wife, Janet, who represents Gayton and Nar Valley, is also to stand down.
"I have always been a Conservative loyalist and the party always comes first which is why I've done what I've done," Mr Murphy said.
"My wife alas shares the same surname as me and is having similar issues with people giving her personal attacks.
"That's an aspect of the local elections that should not be there.
"I had already made up my mind privately with my wife and the people of South Norfolk Conservative Association that, whatever happened on Friday, I was not going to stand because clearly we all realised I was going to be an issue at the election.
"Although I'm not going to stand I will be out there with the campaigners to ensure the excellent candidates get elected."