Swimmer Jessica-Jane Applegate appointed MBE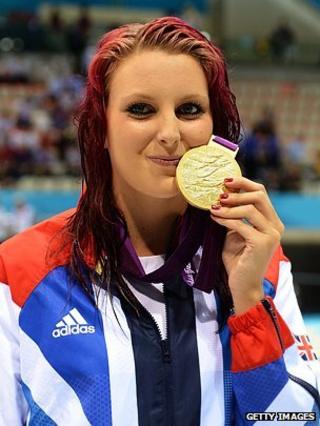 A Paralympic 2012 gold medal winner from Norfolk has been appointed an MBE in the New Year's Honours list for her services to swimming.
Jessica-Jane Applegate, 16, who has Asperger's syndrome and lives in Belton near Great Yarmouth, set a new Games record in the 200m Freestyle S14 final.
Richard Shaw, 59, from Hunstanton, has also been appointed MBE for his services to charity.
The honour is both "exciting and humbling", he said.
Mr Shaw helped as a volunteer with the Teenage Cancer Trust (TCT) for about 12 years before taking a job with the charity following a career in IT and marketing.
'Real privilege'
"Having had cancer as a teenager it was a natural choice," he said.
"With a grown-up family and wife all supporting the decision, I made the move [to work for TCT] and subsequently had the privilege of working as the chief executive for the Norfolk Hospice Tapping House, where I also volunteered.
"I was planning on retiring, but the chairman of the hospice had other plans."
The hospice provides care to people with cancer, neurological and other life-limiting conditions.
Mr Shaw said he felt the MBE "represents other people who've helped you along the way and given you the inspiration to do it."
He added: "To do this kind of work is a real privilege and I'm glad I've made that choice."
Other people to have been honoured in Norfolk include Prof Ian Bateman at the University of East Anglia, who has been appointed OBE for services to environmental sciences and Nichola Johnson, who has also been made an OBE for services to museums and cultural heritage.
MBEs have conferred on Sally Campbell-Gray, from King's Lynn, for services to the Riding for the Disabled Association, Horace MacDonald-Cross, from Downham Market, for services to the Royal British Legion, and Freda Sheehy, from Norwich, for services to the community.
Heather Didwell and Duncan Pigg, both from Norwich, have been awarded a British Empire Medal for services to the community.