Abu Hamza's son Imran Mostafa guilty of King's Lynn jewellers robbery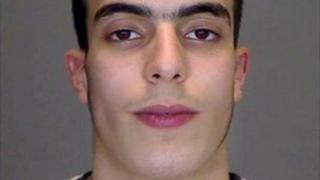 The son of radical Islamic cleric Abu Hamza has been convicted of carrying out an armed raid at a jewellers.
Imran Mostafa - whose father faces deportation from the UK - carried out the raid with Jonathon Abdul, 17, in King's Lynn, Norfolk, on 31 January.
Mostafa, 20, denied robbery and possession of a firearm with intent but was convicted at Norwich Crown Court.
Jewellery worth about £75,000 was taken in the raid. Both Mostafa and Abdul will be sentenced at a future date.
Ossama Hamed, 19, of Gresswell Street, Fulham, and Ahmed Ahmed, 19, of Nags Head Road, Enfield, north London, had both previously admitted the same charges in relation to the robbery at Francis Wain on Norfolk Street.
They too will be sentenced at a later date.
'Smoke bomb'
Details of Mostafa's parentage had been made the subject of a contempt of court order by Judge Peter Jacobs, which was lifted after jurors reached their verdicts.
The judge also lifted restrictions on reporting the identity of Abdul, who was 16 at the time of the robbery.
The court heard how members of the shop staff cowered behind counters as three men burst in - one armed with a firearm and another with a hammer, which was used to break display cabinets.
Another man stayed in a van which was used as a getaway vehicle.
Prosecutor Ian James told the court: "One of the robbers let off some sort of smoke bomb causing confusion, and stock was taken as loads of glass fragments went everywhere because of the way the robbery was conducted."
Civil engineering student Mostafa, of Deverills Way, Slough, told the jury he had been teaching Arabic and the Koran at a community centre in London at the time the robbery took place.
He told the jury when he gave evidence: "I am not a thief. I am not an armed robber."
Abdul, of High Street, Fulham, south-west London, admitted he had been in King's Lynn the day before the robbery, but said he was subject to a bail curfew at the time and had to return to London by 22:00 BST that day.
Another of Abu Hamza's sons, Yasser Kamel, 20, was jailed for 12 months in 2010 after admitting violent disorder during anti-Israel riots in London.
Abu Hamza, 54, has appealed to the European Court of Human Rights against his extradition from the UK to the US on terror charges and is awaiting a verdict.