Olympic torch: Norfolk village Hethersett receives flame visit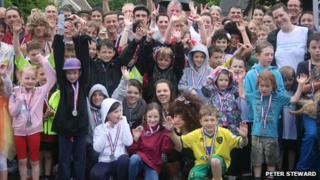 A Norfolk village is to receive a rare "off-route" visit from the Olympic flame to mark its "outstanding contribution" to the London 2012 Games.
Hethersett, near Norwich, has organised the most Olympic events per head of population than anywhere else in the UK, Games organiser Locog said.
The flame will be paraded around the high school in a lantern ahead of the start of Thursday's relay in Norwich.
Up to 5,000 people are expected to see the flame, which arrives at 06:26 BST.
Since July 2010 the village, with a population of 6,500, has arranged about 30 different events for the London 2012 Open Weekends, including a 24-hour swimathon, ladies' five-a-side football tournament and dodgeball matches.
The village's enthusiasm caught the attention of Sir Keith Mills, deputy chairman of London 2012, who visited Hethersett's first Open Weekend to present an Inspire mark to congratulate it on its contribution to the Games' legacy.
'Very proud'
Since then organisers have managed to put on many more sporting and cultural events and arranged visits by Olympians and Paralympians and the London 1948 torch.
Shane Hull, who set up the Olympic sub-committee on the parish council, said he was "very proud" to hear the flame would finally visit the village, after he "made a nuisance" of himself by lobbying London 2012 chairman Sebastian Coe, London mayor Boris Johnson and various MPs.
"This community has been peerless in terms of everything it has been doing over the last three or four years to convince London that this is a place to be to celebrate the Olympics," said Mr Hull.
"We've really put on a show and it's all down to the whole community - all four schools have been heavily involved."
Mr Hull said up to 5,000 people are expected to turn out to see the flame, which will arrive at the high school's gates on Thursday at 06:26 BST.
A fanfare will mark the lantern's arrival before it is paraded around the school field.
Kerry Jordan, headteacher of Hethersett High, said: "The Olympic values have been behind everything the village has done, bringing all members of the community closer together."
A Locog spokeswoman said: "The flame's visit is our way of saying 'thank you' to Hethersett for its outstanding contribution to the London 2012 Games."
Mr Hull and village playgroup supervisor Nicky Wardale are also going to be Olympic torchbearers as the flame makes its way through the East of England this week.
Ms Wardale will carry the torch through Cromer, Norfolk, on Wednesday, with Mr Hull carrying it through Felixstowe, Suffolk, on Thursday.