Security plan over Norwich Castle Museum thefts
18 June 2012

From the section

Norfolk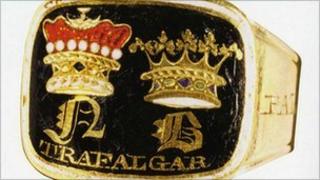 Extra CCTV should be considered at all Norfolk museums after Lord Nelson artefacts were stolen, a report shows.
Items valued at more than £36,000, including a ring, saucer and medals, were taken from Norwich Castle Museum on 25 February.
However, the review states security is sufficient to exhibit items from national museums.
The Norfolk Museums and Archaeology Committee will consider the security report on Friday.
Medals marking Nelson's death and the Battle of the Nile were among the items reported missing from a display case.
Trembler alarms
Just days earlier, four men forced open a glass cabinet and were stopped by staff as they tried to leave with a stuffed rhino's head.
Both incidents happened while the museum was open to visitors.
A Norfolk County Council spokeswoman said: "Although the review was specifically concerned with security at Norwich Castle, the action plan relates to the whole of Norfolk Museums and Archaeology Service."
The report suggests improved locking systems and the addition of trembler alarms should be considered when evaluating display cases.
Volunteers could be used more widely to assist with gallery invigilation, it adds.
The report states: "Until this year it should be noted that Norfolk Museums and Archaeology Service (NMAS) had an exemplary record with regard to museum security.
"The Arts Council Museum Security Advisor still considers that Norwich Castle security systems are suitable to receive loans from national museums."
Shortly after the thefts, the museum was one of just three in the UK to take part in a touring exhibition of Titian's Diana and Actaeon, which was bought by the National Gallery for £50m in 2009.
Barry Stone, county council cabinet member for cultural services, said: "The service has begun implementing improvements from its existing budgets and I'm sure that the committee will be interested to hear the longer term plan and weigh up any more costly proposals."