Norwich Cathedral peregrines reject final egg in clutch
7 May 2012

From the section

Norfolk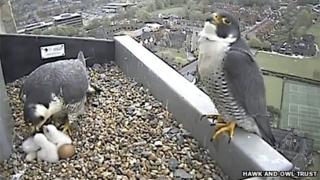 The final egg in a full clutch of four appears to have been rejected by a pair of peregrine falcons nesting on Norwich Cathedral spire, say experts.
The female adult kicked the egg away from the brood of three chicks around 08:00 BST on Monday.
Hawk and Owl Trust volunteer Jan Smith said: "She rejected the egg. I suspect it may be infertile or that it got damaged during the incubation process."
The three chicks that hatched are the first to do so in Norwich in 200 years.
Although the female pushed the egg away from the chicks she did eventually bring it back under the wing, but experts feel it is now very unlikely to hatch.
Ms Smith said: "It's not going to fail because she didn't incubate for 90 minutes, it will fail because it's damaged.
"What normally happens is that she'll call to the egg in the last few days of incubation and if it's a viable egg it will call back.
"What I think is happening here is just instinct - she sees the egg and thinks 'I must cover it up'."
Four eggs were laid on the specialist platform on the cathedral's spire, which acts like a cliff-face for the peregrines. The platform sits at 75m (246ft) high.
The first chick hatched in the early hours on 2 May, with the second arriving 12 hours later. The third chick hatched on 4 May.
Leanne Thomas, from the Hawk and Owl Trust, warned the poor weather could hinder the chicks' survival.
"We have had extreme wind and rain," she said. "On a cliff-face the peregrines are used to battling the elements, but we cannot guarantee that all the chicks would be able to survive.
"However, hopefully they will pull through."
Ms Smith said the parents had bonded closely with their offspring, ensuring they have been well fed on what appeared to be mostly a diet of pigeon.
Activity on the ledge is being followed 24-hours a day by two cameras, one of which is broadcast on the internet.