James Bond autogyro pilot Ken Wallis, 95, plans new record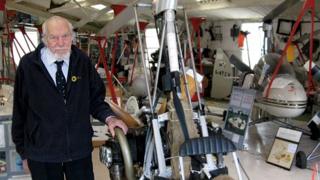 An autogyro pilot from Norfolk plans to beat his own world speed record as "something to do" to mark his 96th birthday.
Retired Wing Cdr Ken Wallis, who lives near Dereham, set the current record of 129mph in level flight in a one-piston engine autogyro over 3km in 2002.
Mr Wallis said: "I'm lucky to have been flying for 75 years, I hope to reach 140mph.
"I thought I'd wait until I was 96 as it's just a laugh."
Mr Wallis, whose birthday is at the end of April, set 17 world records in two classes of autogyro from 1968 to 2002.
He still holds eight of them, according to the International Air Sports Federation, and regularly flies from his home at Reymerston Hall.
James Bond
He said: "I love flying, it's a family vice. It's an amazing feeling when the aircraft takes off, it's something I'm so used to doing.
"Some people say I shouldn't still be doing it, but I'm still fit to drive. I think I'm more of a menace to people on the ground than if I'm in the air really."
Mr Wallis, president of the Norfolk and Suffolk Aviation Museum, keeps 18 autogyros at his Norfolk home, three of which are ready for flight.
He has appeared in a number of feature films, including doubling for Sean Connery as James Bond in the 1967 film You Only Live Twice.
"Connery had done all the other shooting in Japan and was waiting for me to get there with Little Nellie," he said. "He had to get in, sit there and be briefed by Desmond Llewelyn as Q. He then got out and I did all the flying.
"We made something like 75 flights, around 44 hours in the air for seven-and-a-half minutes on screen, but that's film-making."
Mr Wallis marked the 75th anniversary of getting his pilot's licence on Wednesday.
Remembering the day he got the licence, he said: "I was in Cambridge and flew the Gypsy Moth, it was before the Tiger Moth came in. I got my licence in a total of 12 hours and it cost me £14 and that included a helmet and goggles."
Mr Wallis joined the RAF at the start of World War II. He began flying on Army cooperation duties with 268 Squadron before transferring to Bomber Command in 1941.
He completed 24 missions over Europe as a Wellington bomber pilot with 103 Squadron and then served in Italy with 37 Squadron.
Lost propeller
Mr Wallace said he was thinking about trying to beat his record in the summer and is confident about the speed the autogyro will reach.
He said: "I know the aircraft will do 136mph as I did that on a 15km speed record attempt around 2010 - but then the propeller fell off.
"The bolts loosened up and the prop came off. I landed with no trouble on a piece of land so soft you could hardly feel it - but the propeller has never been found.
"It's now a case of getting everything in place but I've every intention do so come the summer.
"You want a nice cool evening, with no wind and lady luck on your side - we'll have to wait and see.
"It's only making a slight improvement on something I've done years ago, but it's great to have a challenge. It's good to have something to do.
"I feel very privileged to still be flying and will carry on as long I feel fit to do so."
A spokesperson for the Civil Aviation Authority said: "We of course wish Ken Wallis all the best in his flying endeavours.
"However, we have a duty to maintain his safety and the safety of other airspace users and as such will need to be fully confident that any record attempt he undertakes is done in a safe environment."