Herbie Hide gets jail warning for unpaid court fines
9 February 2012

From the section

Norfolk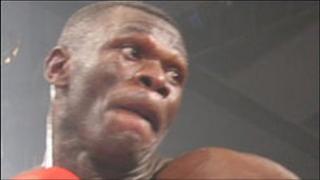 Former world heavyweight boxing champion Herbie Hide has been warned he could face prison for unpaid compensation and court fines.
Hide, 40, of Bawburgh, near Norwich, had been ordered to pay a total of £1,515 when he was convicted of assault at Norwich Crown Court in June 2011.
He told Norwich magistrates he had trouble finding work before the payment deadline of 9 December 2011.
He was ordered to pay up before 30 March or face 45 days in prison.
The court heard the boxer had been to the magistrates' court in June and September to say he was unable to pay because he could not find work, had a bad back and was unable to sign on.
'Getting older'
In January, Hide had asked for an adjournment of the fines enforcement case so he could train in Germany for a fight which would allow to him to settle the debt, magistrates were told.
Hide told the court: "I am a boxer, my work is fighting and I'm trying to get a big fight... but I can't sign on and I'm not fighting."
He said the fight in Germany "didn't happen" and he was "getting older and getting a bad back".
Hide also said he thought the order of £1,000 compensation to his victim Charlene Knox, a £350 fine, £150 costs and a £15 surcharge was "a little bit too much" and that he had been told to plead guilty to assault by his lawyer.
"The judge was looking at me as Herbie Hide. I've got four kids, I've not really got any means of income apart from boxing," he said.
Magistrates told him they could do nothing about the conviction or the level of fine, and advised him to seek legal advice.
Hide said he would pay in full by 30 March because he was in training in Brighton for a fight due to take place next month.
Hide held the World Boxing Organisation version of the heavyweight title twice, including a two-year reign from 1997 to 1999.