Occupy Norwich protest camp served with eviction warning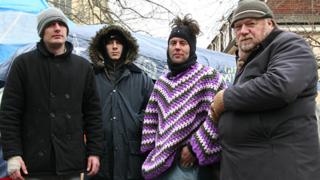 Protesters at the Occupy Norwich camp in the city centre have been issued with a letter urging them to vacate the site by Friday or face eviction.
The letter, sent on Thursday by Norwich City Council, said the protesters did not have permission to remain on site.
The campaigners, who said they have up to 20 people at Hay Hill, have been told they must leave by 17:00 GMT or face legal action.
Some protesters vowed they would remain at the camp.
Occupy Norwich, which now has small shelters instead of tents to cope with the winter weather, began on 15 October as an offshoot to the worldwide Occupy movement.
Protester Freddie, 28, said up to 50 people had been peacefully protesting for "social justice in a capitalist world" on the site since it began.
In the letter, the city council said it owned the land they are camped on and their occupation of Hay Hill is classed as trespassing.
The council said it "recognises the right to peaceful protest" and "acknowledges that this has very much been the spirit of this protest".
'Inadequate time period'
However, it continued that it was "not acceptable" for the protesters to remain indefinitely.
It concluded by stating if protesters remained on site after the deadline, the council reserved the right to take "necessary action to gain possession of the land and remove the structures and tents", and instruct solicitors to institute court proceedings.
In a written reply to the council, the campaigners thanked the authority for its support so far and appreciated its reasons for asking them to leave.
However, it added "two days is an inadequate time period, unless Occupy Norwich is provided with a suitable building or area to move to".
Freddie, from Norwich, said the protesters were taking legal advice to establish their rights.
He said many of the protesters are homeless or were now homeless because of the length of their stay, and moving them would leave them with "nowhere to go".
A council spokeswoman said it had not yet replied to the campaigners' letter and no accommodation arrangements had yet been discussed.
She added council officers would talk to the protest group on Monday if they had not left by the deadline.
The protesters said a planned music festival over the weekend would go ahead.