Number of Norfolk people waiting for homes increases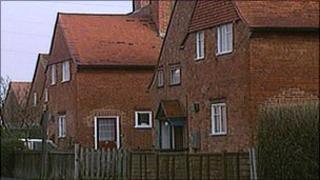 The number of people on the waiting lists for social housing in Norfolk has increased in the last year.
There have been 620 more applications by people needing houses across the county compared to 2010, making a total of more than 32,000.
Housing lists vary around the county: North Norfolk and Breckland Councils' figures have risen, while those for Yarmouth and Broadland have dipped.
This week the Prime Minister said home ownership would be encouraged.
The government plans to increase right-to-buy discounts for social housing tenants.
Money from this scheme will then by spent on building more affordable housing, with one dwelling constructed for each property sold.
Building
The number of households who have applied to be housed by North Norfolk District Council has increased by 887 in a year, taking the total to 3,943.
Victory Housing Trust took over the ownership of all of the district council's housing in 2006.
It plans to improve existing properties and build another 500 to address what its leader calls a "crisis".
The trust's chief executive John Archibald said: "Behind those figures are people and households which are really struggling to find accommodation that they can afford.
"Housing has been one of the sectors that has had the biggest cut in government grants. Typically we'd get £40-£45,000 to build a new house, now we'll be getting about £15,000.
"When you have an inadequate supply you are effectively rationing - you've got to make sure that the housing goes to those in the greatest need."
Across the borough of Great Yarmouth, the waiting list has been cut by 808 applications, which has been the result of a targeted approach.
Jane Beck, from the borough council, said: "It's because we're dealing with their needs very differently.
"We're looking at what their requirements are and also giving consideration to how quickly we can help them."
Housing minister Grant Shapps said the government was aware of the need for more homes.
He said: "There are nearly 5m people languishing on these housing waiting lists now... many of them very vulnerable, in much greater need of housing and what we'll do is build a house and then therefore be able to let it."