Norwich hospital's new birthing unit welcomes first baby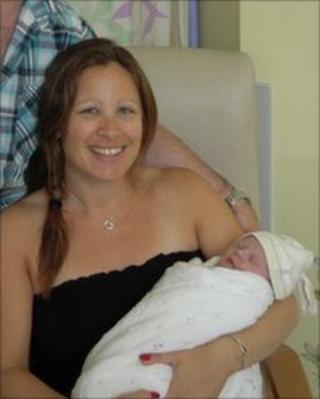 A new midwife-led birthing unit has opened at a Norfolk hospital and welcomed its first delivery.
Hetti Griffiths, weighing 7lbs and 3ozs, was delivered by water birth at the Norfolk and Norwich University Hospital on Monday morning.
The unit offers women a home-from-home environment in which to have a natural birth if the delivery is expected to be low-risk, the hospital said.
It has four rooms and three birthing pools and cost £400,000 to build.
The unit gives one-to-one care and support to women throughout the process of birth naturally and without intervention.
Midwives on the unit are also trained to do the paediatric checks needed before babies can go home.
Hetti's mother Trudi said: "My birth plan was to have a water birth and I knew from my community midwife that the birthing unit was due to open soon.
"It's my first baby and I'm just very pleased that I had the water birth I wanted.
"It's given me a real sense of achievement."
Midwife Molly O'Brien, who provided one-to-one care throughout the labour, said: "From a first time mum's point of view she did very well.
"It was a completely natural birth."