Hillsborough match commander David Duckenfield was a 'bully', ex-PC claims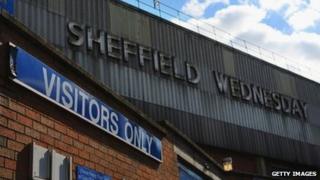 The match commander who was in charge of Hillsborough stadium on the day of the disaster was a "bully", the inquests heard.
Retired PC William West said former Ch Supt David Duckenfield was "very authoritarian and aggressive" during a briefing a week before the match.
Mr Duckenfield was "not a pleasant man" and told officers how it was "going to be his way", Mr West said.
Officers were told their division was a "disgrace" and "had been badly run".
'Useless, no good'
Mr West said anyone who "refused to comply" would be gotten "rid of one way or another".
Recalling the briefing, during which football was never mentioned, he said: "It was a very one-way conversation by Mr Duckenfield.
"He basically told us how we were useless, we were no good, we were doing it all wrong, it was going to be his way."
"He was not a pleasant man," he added.
Kirsten Heaven, who represents some of the Hillsborough families, asked Mr West if he thought Mr Duckenfield was a "bully".
Mr West replied: "If he was given the opportunity to be, I believe he would be a bully and looking for scapegoats."
The former PC was about to move to another district at the time of the briefing and told the inquest jury in Warrington he "did not want to work under him".
Ninety-six fans died as a result of the crush at the 1989 FA Cup semi-final on 15 April.
Mr Duckenfield was appointed on 27 March 1989 after an "appalling incident" following a police "prank", his barrister John Beggs QC said.
He replaced Hillsborough's experienced match commander Ch Supt Brian Mole who was transferred to Barnsley after the incident involving a probationary PC.
Mr Beggs said it "may be important for a senior officer to emphasise that he expected very important legislation to be complied with".
He asked if Mr Duckenfield was from the "disciplinarian wing of senior officers", to which Mr West replied: "It appeared that way, yes."
The jury was told Mr West did not have any direct experience with the senior officer but it was how he felt at the time.
When asked by Police Federation barrister Paul Greaney if, from that briefing, Mr West thought Mr Duckenfield expected his instructions to be followed without question, Mr West said: "Yes I did."
Mr Greaney added: "And that if they were not, there would be consequences?"
"Yes, that's correct," Mr West said.
Previously, the inquest jury heard Mr Duckenfield ordered an exit gate to be opened shortly before kick-off when thousands of fans were outside the ground at the Leppings Lane turnstiles.
Mr Duckenfield retired from South Yorkshire Police on medical grounds in 1991.
The hearing continues.