Merseyside PCC hopes helpline will increase hate crime reports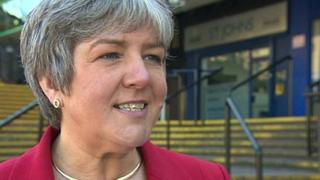 Merseyside's Police and Crime Commissioner (PCC) has said she hopes a new hate crime helpline will see a rise in the number of offences reported.
Jane Kennedy said her office would fund the third party reporting agency Stop Hate UK's line to give a "consistent facility across the region".
She said an increase in the number of crimes reported was something that police "must accept and encourage".
Stop Hate UK said the funding would allow a "much needed service" to exist.
Ms Kennedy said she had made the decision to pay £22,391 a year for the line after becoming concerned that the service available across Merseyside had become inconsistent.
'Very important step'
"We know that all forms of hate crime are significantly under-reported [and] it is important to recognise that some individuals and communities may be reluctant to talk directly to the police.
"That is why it is so important to have a consistent third party reporting facility across the whole region.
"My hope is that the reporting of hate crime does increase because, ultimately, that means that people are speaking out."
Stop Hate UK's chief executive Rose Simkins welcomed the funding and said it was "a very important step [which will] bring consistency across the whole of Merseyside".
A spokeswoman for the PCC said the line would be open 24 hours a day, every day of the year to support "people who report incidents they believe to be motivated by disability, gender identity, race, religion and sexual orientation".
She added that "people who believe that they have been targeted because of other aspects of identity" could also call the service.