Southport pair accused of X-Factor's Rebecca Ferguson con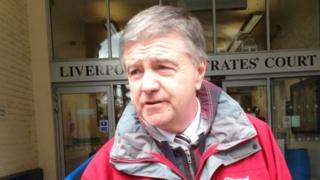 A couple accused of conning former X-Factor star Rebecca Ferguson out of £50,000 have appeared at Liverpool Magistrates' Court.
Rachel Taylor, 53, and Raymond Taylor, 61, from Southport are charged with fraudulently acting as an accountant and solicitor for the singer.
Mrs Taylor is charged with theft and three counts of fraud, Mr Taylor, 61, with one count of fraud.
The couple were bailed and are due at Liverpool Crown Court on 24 July.
Mrs Taylor is alleged to have fraudulently acted as Ms Ferguson's accountant, provided false bank statements and sent the star a false tax invoice between 1 and 9 January 2013, in order to obtain gain.
She is also alleged to have stolen money from Ms Ferguson between 30 September and 1 November 2012.
Mr Taylor is accused of committing fraud on 24 September 2009.
The pair, of Forest Road, are expected to enter a plea at the next hearing.