Mersey Tunnels toll rises by 10p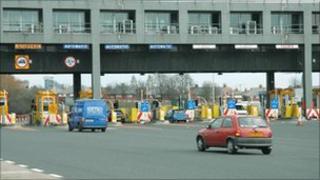 Car drivers will pay an additional 10p to use the Mersey Tunnels from April, Merseytravel has announced.
The transport authority agreed the toll fee will rise to £1.70 for cash-paying motorists and £1.40 for Fast Tag users who pay by direct debit.
Merseytravel chairman Liam Robinson said the increase was below inflation.
After the budget meeting, Mersey Tunnels Users Association (MTUA) said it was "disappointed but not surprised" by the decision.
The fee will increase by up to 40p for larger vehicles.
'Grossly unfair'
Dave Loudon, who spoke on behalf of MTUA, described the tunnels as a "money-making machine".
He said: "This treatment of users of the tunnels users is grossly unfair as we are already paying a massive amount to the government in fuel duty and other motoring taxes."
Merseytravel said under the Tunnel Act 2004 it had permission to increase toll fees by 20p for car drivers.
Mr Robinson said: "We appreciate that any increase in the cost of a service is less money in people's pockets and that's why we don't take it lightly.
"The safe and effective operation of the tunnels is vital to the economy of the Liverpool City region and beyond," he added.
MTUA plans to hold a demonstration to "demand an end to this tolls extortion".
The increase will generate about £2.4m a year and any surplus funds will be saved for urgent repair works, Merseytravel said.
Some money will be reinvested into public transport across Merseyside.
The tunnels are used by more than 25 million vehicles a year, according to the transport authority.