Truancy fines 'up by 400%' in Cheshire West and Chester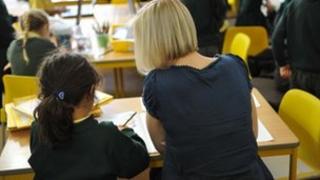 Truancy fines for parents who take children out of school has increased in parts of Cheshire by almost 400%.
Figures obtained by the BBC show that in Cheshire West and Chester numbers of fines increased from 21 in the autumn term 2012 to 81 last autumn term.
Children can only be absent from school during term time in exceptional circumstances.
Penalty fines for parents who break the law can vary from £50 to £100, or much higher if they are prosecuted.
In Liverpool, 97 penalty notices were issued to parents during the 2012 autumn term. For the same period in 2013, the number of notices rose to 250.
Fifty-four of the pupils in Liverpool in 2012 were from secondary schools, with the remainder from primaries.
Last year, the majority of fines in the city related to primary school pupils (138) with the remainder from secondary schools.
Three-month jail
The figures for Wirral Council show 132 penalty notices were issued in the autumn term 2013, compared with 100 in the whole of the 2012/3 academic year.
If parents are prosecuted for taking their children out of school, they can be fined up to a maximum of £2,500 or three-month jail sentence.
The schools write to parents before any fines are issued, however, in the case of absence because of a holiday, the fine can be issued without a letter.
Brian Lightman, from the Association of School and College Leaders, said: "It is a reflection in the change in the law, not that there are more people taking their children out of school.
"There is quite rightly a high expectation on behalf of parents and government to do everything they can to enable all students to achieve highest standards.
"Schools can only do this when pupils are present. Penalty notices are a last resort."
'Ramp up cost'
Liverpool Councillor Jane Corbett said Ofsted inspectors will mark schools that are doing well where absenteeism levels are too high.
She said: "The school is pulling everything out of the bag here and the parents and carers need to get the children in."
Anne Langfield, chief executive of 4children, a national charity supporting families, said: "For families this really is a rock and hard place.
"The travel companies really ramp up the amount of cost for school holidays - it can be double.
"We are looking for a way to resolve this that gets the kids in school and allow the families to have the holiday time they need."