Joiner at Liverpool hospital helps save man's finger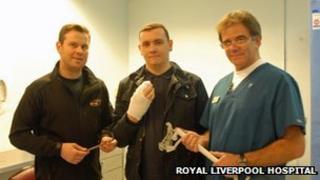 A joiner who was working at a Liverpool hospital helped save a man's finger.
Mark Tasker, 31, was asked by medical staff to help Scott Butler, 21, whose index finger was trapped in a hinge and had turned blue.
He had been taken to the Royal Liverpool Hospital and paramedics told him he had a 70% chance of losing his finger.
Dr Lawrence Jaffey said he chased Mr Tasker after seeing him walk past in A&E and asking him for an Allen key.
He said Mr Tasker had "the biggest set of Allen keys I have ever seen. The third one we tried worked."
'Feel no pain'
At first the Allen key did not work, so he got a hacksaw and tried to cut the hinge. The saw jammed, so he used pliers to force the key.
Ten minutes later, Mr Butler's finger was released and returned to a normal colour.
"I would like to thank Mark for stepping up to the plate and getting stuck into something that was clearly not in his job description," Dr Jaffey said.
Mr Butler, from Walton, had been fixing a kitchen cupboard when the hinge snapped on to his finger, cutting off the blood supply. It turned white, then dark blue.
"After 30 seconds I could feel no pain or any sensation in the finger," he said. "I had to rip the hinge off the door with my left hand so that I could get away."
He has three fractures in his finger and a bandaged hand, but returned to work the next day. He said without the doctor and Mr Tasker's quick thinking: "I would probably have lost the finger."