Family of Hillsborough victim Adam Spearritt 'want answers'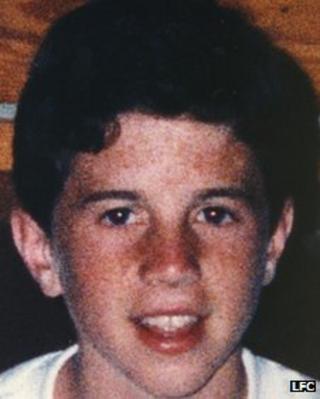 The brother of a boy killed in the Hillsborough disaster wants answers as to how his name was wrongly read out on a list of people believed to be alive.
Paul Spearritt said he wanted an explanation as to why an unidentified officer read out the name of his 14-year-old brother Adam.
The police watchdog could investigate the role played by Met Police Commissioner Sir Bernard Hogan-Howe.
He was in charge at Sheffield Boys' Club where families waited for news.
'Good faith'
Paul Spearritt said: "We can understand it was a frantic situation but we need to know these things because it might provide answers on the movements of people and the care given to those injured and the families who arrived on the day to find out where their loved ones were.
"It [isn't] to criticise somebody who may have just picked up a list and read it out in good faith, it is a family looking to understand how my mum was informed Adam was alive when my dad's name was never on any list and he was in intensive care in hospital."
The family has made a formal complaint to the Independent Police Complaints Commission (IPCC).
The Mayor's Office for Policing and Crime is responsible for deciding whether complaints against the commissioner should be recorded and referred to the IPCC.
The IPCC has said it expects this matter to be recorded and referred.
Ninety-six fans died in the 1989 crush.
The tragedy happened at the FA Cup semi-final between Liverpool and Nottingham Forest on the afternoon of 15 April 1989. Later that day, relatives of fans caught up in the crush on the terraces at the Leppings Lane End at Sheffield Wednesday's ground waited at the Boys' Club for news.
The IPCC investigation follows the Hillsborough Independent Panel's report published last September, which concluded the lives of 41 fans could have been saved and cleared Liverpool supporters of any wrongdoing.
Sir Bernard has previously said he is willing to speak to investigators about his recollection of events and assist their inquiry.