Toxteth vicar's enforced retirement branded 'ageist'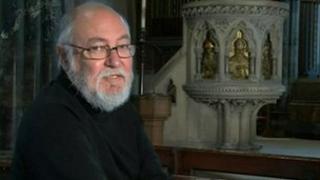 The enforced retirement of a vicar has been branded "ageist" by members of his congregation.
Church rules mean the Reverend Robert Gallagher will have to give up his role at St Margaret's Church in Toxteth, Liverpool, when he turns 70 in August.
He has said he wants to continue and more than 200 parishioners have signed a petition supporting his request.
The Diocese of Liverpool said "stipendiary clergy are required to vacate office by law at the age of 70".
Mr Gallagher has been a vicar at the church for 23 years and said he "loved the place".
He said he was aware that he would be required to retire at 70, but had "taken heart" after legislation abolished compulsory retirement at the age of 65 for most workers in 2011.
"The church has a tradition of old blood; that by life's experience, we learn wisdom and if there's any place that requires wisdom, then surely it must be the church," he said.
'Expected more'
However, he said he had been left "dismayed" by a letter from the Bishop of Liverpool, which "reminded me of the rule and that I had to go".
The bishop, the Right Reverend James Jones, is himself retiring in August.
Mr Gallagher said he "expected more - spiritually, theologically and personally - from my bishop".
St Margaret's Church treasurer Mary Baillie said she supported the vicar's request to stay on in his role.
She said Mr Gallagher was "well enough to carry on" and could not see a reason for him to have to retire.
A spokeswoman for the diocese said that stipendiary clergy could only continue beyond the age of 70 for "very exceptional and particular reasons".
"The Diocese of Liverpool consistently follows this policy and does not believe such an extension is in the wider interests of the Diocese and so has not permitted an extension in this case.
She said Mr Gallagher had been "given every opportunity to discuss his retirement with senior clergy".