Liverpool's Welsh Streets plan faces Pickles scrutiny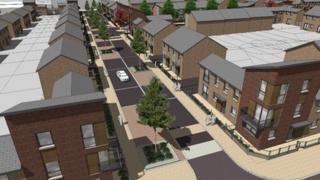 A £15m regeneration plan for Liverpool's Welsh Streets has stalled hours after councillors gave the go-ahead to build new homes.
The council planning committee backed a plan on Tuesday to build more than 150 new homes, demolish up to 440 homes and refurbish 37 houses.
But Communities Secretary Eric Pickles has frozen the plan while he decides whether to hold a public inquiry.
Mayor of Liverpool Joe Anderson urged Mr Pickles to let the scheme proceed.
Mr Pickles' decision came after representations from campaigners opposing demolition.
A Department for Communities and Local Government spokesman said: "The department has received representations asking for this application to be called-in.
"We have issued an Article 25 notification on this planning application while we assess whether or not to do so, so we can give the matter proper consideration."
But Mr Anderson said the decision should be made locally.
"The local community have said in no uncertain terms what they want in the Welsh Streets and as mayor I have listened to them in progressing these proposals," he said.
"They are fed up with constant unnecessary delays which are stopping them having the good quality homes they deserve," Mr Anderson added.
Irene Milson, chair of the Welsh Streets Tenants' Association said they had waited 10 years for the decision.
'Managed decline'
However Clem Cecil, director of Save Britain's Heritage (Save) said the organisation wanted to save more homes from demolition.
The campaign owns a house in one of the streets where a resident has spent more than £3,000 on renovating the property.
Another local campaigner, Jonathan Brown of Share Our City said: "If it goes through, the application will represent the triumph of managed decline over real regeneration.
"There will be up to 300 fewer homes and no local shops or businesses on the site."
A spokeswoman for the housing association Plus Dane said any delay to the scheme "would seriously jeopardise the funding available".
The social landlord could lose 50% of its funding for the project from the Homes and Communities Agency (HCA) as the job must be completed by March 2015.
The Secretary of State has up to three weeks to decide whether to hold a public inquiry, which could delay the project by six to 12 months.
Thirty-seven houses will be restored including 9 Madryn Street - birthplace of former Beatle Ringo Starr.
The regeneration will also see 280 houses demolished in the first phase, ending 10 years of consultation. A second phase would see a further 160 homes demolished.
Of all the houses included on the site, 40 will be retained. These include the refurbishment of 37 terraced properties - 16 of them on Madryn Street, five on High Park Street and 16 on Kelvin Grove.