Merseyside waste £1bn contract: Legal action over disposal deal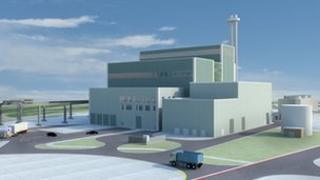 A £1bn contract that could see Merseyside waste shipped to the north-east of England for processing is to be challenged in the High Court.
Sita UK was named preferred bidder over Covanta Energy, which proposed building a site at Ince, near Ellesmere Port.
Merseyside Recycling and Waste Authority (MRWA) rejected the Covanta challenge saying it would "vigorously defend the claim brought against it".
Recycling firm Sita UK, said it was unable to comment on legal proceedings.
Energy-from-waste company Covanta is hoping to develop the country's biggest eco-waste plant at Ince Park, in a joint initiative with Peel Environmental.
'Not considering employment'
Myles Kitcher, Director of Peel Energy, said: "It's a bizarre outcome, given that the Covanta scheme would have delivered half a billion pounds of investment to the North West, creating 600 construction jobs, another 100 jobs in operation.
"What compounds it is the alternative bid is over £200m more expensive for the people of Merseyside".
Following the selection of a preferred bidder, Mayor of Liverpool Joe Anderson claimed hundreds of jobs and investment were "snatched from the grasp" of Merseyside.
He said he could not understand how it could be "more environmentally friendly and more cost effective" to ship waste 150 miles away to Teesside rather than disposing of it locally.
Labour MP for Ellesmere Port & Neston Andrew Miller, said he was "fed up with public authorities not considering employment issues".
"We have a waste disposal company that had the opportunity to help create hundreds of jobs in our region, and instead it's shipping its waste all the way across to Teesside".
The MRWA, which manages waste disposal for five local authorities across Merseyside, said the proposed 30-year deal would result in savings of £145m for the MRWA and its partner councils and the disposal of 90% of Merseyside and Halton's residual waste away from landfill.
'Power for homes'
It said it was part of a project to provide a sustainable and cost-effective solution for 430,000 tonnes of municipal waste each year, which is not recycled.
The authority said Sita's bid included a new facility at Teesside's Wilton International site, which would create around 50 jobs, and a new rail hub to transport waste at an existing rail freight terminal in Kirkby.
A Sita spokesman said: "We are very pleased to have been selected as the preferred bidder to recover energy from Merseyside and Halton's residual household waste.
"Rather than send this waste to landfill, we will put it to good use by producing enough electricity to power more than 60,000 homes.
"Dealing with waste in this way will save money for council taxpayers and is also better for the environment".