Forensic staff 'knew live bullet conviction was wrong', court hears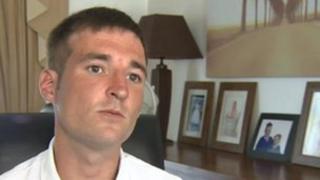 Claims that forensic staff allowed a man to be wrongfully convicted of possessing a live bullet while knowing it was a keyring are to be probed.
Thomas Smart, 25, of Fazakerley, Liverpool, was convicted of possessing ammunition in 2008 based on Forensic Science Service (FSS) evidence.
It later emerged the "live bullet" found in his house was a £3 keyring. His conviction was quashed in 2009.
He is suing the government's FSS claiming deceit and negligence.
Lord Justice Moses, sitting in the Appeal Court, ordered a full hearing into the case with members of staff from the now disbanded FSS cross-examined.
Exhibit 'interference'
The case could set a precedent whereby prosecution expert witnesses will be held liable to defend their evidence in criminal proceedings, Mr Smart's solicitor Chris Topping said.
Lord Justice Moses said it was clear that as a result of "interference" with exhibit numbers, it had been falsely stated by FSS that a real bullet held as evidence in a separate case was found at Mr Smart's home.
He told the court: "The effect of interference with the exhibit numbers, whether it was designed originally to conceal confusion or 'mix up' or not, was the same as planting the real bullet in Mr Smart's premises.
"It is alarming that the course of justice appears to have been perverted by the alteration of exhibit numbers and the failure to disclose that that had occurred or any reason why it occurred."
He added: "Witnesses, if called by FSS, will have to explain and justify the handling of the exhibits in this case. They cannot be protected from being questioned or from accounting for their actions."
Guilty plea
Mr Smart's conviction was quashed in 2009 after the FSS, which was owned by the government, wrote to police admitting the wrong exhibit had been examined.
The "bullet" was found in Mr Smart's bedroom during a police search of his home for a reason unconnected to him, the court heard.
When forensics experts said it was a live bullet Mr Smart was forced to plead guilty to the crime and suffered depression and anxiety due to his arrest and wrongful conviction, judges were told.
He was denied compensation by a judge who ruled the FSS was protected by the legal immunity from civil negligence claims granted to witnesses and experts in criminal trials.
The incident led to an internal FSS inquiry and changes were made to systems as a result, the court heard.