Volunteer regiment receives Freedom of Warrington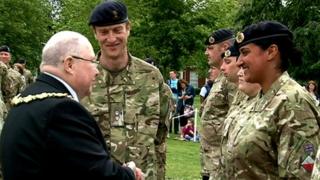 Part-time soldiers from Cheshire have been honoured with the Freedom of Warrington on Armed Forces Day.
Men and women from the 75 Engineer Regiment have been recognised for the unit's "outstanding service".
The regiment, which recently returned from Afghanistan, marched through the town to receive the award and also received their service medals.
Commanding officer Lt Col Al Veitch said receiving the Freedom of Warrington was a "tremendous honour".
He added: "As the only army unit that is actually based in the heart of Warrington in the historic Peninsula Barracks, having a close connection with our local borough and our community is key."