Rare spiny turtle hatches at Chester Zoo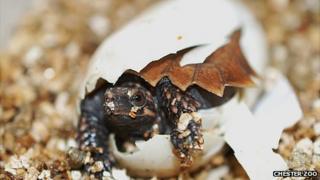 Keepers at Chester Zoo are "absolutely ecstatic" following the birth of a rare spiny turtle.
The baby turtle was the "first ever bred in the UK", a zoo spokesman said.
He said the species faced extinction in the wild because of habitat loss, hunting and the international pet trade.
The turtle's parents were given to Chester Zoo after an illegal haul was confiscated by wildlife authorities in Hong Kong in 2000.
Keeper Isolde McGeorge said when the turtles arrived at the zoo in 2011 they were "all very, very sick and we were really worried we were going to lose them".
"Twelve years later, to have now reached this momentous point where we've actually managed to breed them is incredibly satisfying.
"The challenge now is to replicate this and help make sure the future of the species is better safeguarded."
Fellow keeper Ruth Smith said there had "only ever been a handful of successful breeding efforts documented, anywhere in the world, so we're absolutely ecstatic - it's breaking new ground for us".
"When a species is as endangered as the spiny turtle, each individual is so important.
"We're giving our little fellow around the clock attention as everything we're learning could be crucial if we're going to try and prevent their slide towards extinction."
The first spiny turtle to be bred in captivity in Europe hatched at the Durrell Conservation Trust in Jersey in 2004.