Keep Jon Venables in jail, says James Bulger's mother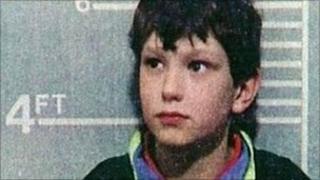 The mother of murdered toddler James Bulger has urged officials considering parole for one of his killers to keep him locked up.
Jon Venables was released in 2001 but jailed again in 2010 after admitting downloading and distributing indecent images of children.
Denise Fergus attended a parole hearing via videolink from Liverpool to demand a full examination into Venables' past.
James's father Ralph said it would be "stupid" to free Venables.
Ms Fergus also called for an inquiry into whether her son's murder had a sexual motive.
Two-year-old James was killed in Merseyside in February 1993 by Venables and Robert Thompson, who were aged 10 at the time.
'Failure to rehabilitate'
After the parole hearing Ms Fergus said she hoped officials would now look into alleged sexual elements to his offending.
She added: "I think it's a big move forward for us all. I'm just hoping they keep to their word now and take into consideration our concerns over Venables.
"I still believe Venables is a danger to the public. He has proven that his rehabilitation didn't work by the offences he has committed since he murdered James."
Her solicitor Sean Sexton said Venables should never have been released from prison.
He said: "Denise believes the initial parole hearing in 2001 was inadequate - there was a rush to declare him rehabilitated.
"Too much had been invested in Venables by those supervising him. Failure to rehabilitate him was not an option."
Mr Bulger, who also spoke by videolink, said after the hearing: "I think they'd be stupid if they let him out.
"He will re-offend. I think there is a big probability of that and I've always felt like that."
His solicitor Robin Makin added: "We said to the parole board that we felt it would be reckless of them to try another liberal experiment in the uncharted territory of possibly giving him a second identity."
'Drug and drink problems'
When he was re-arrested it emerged Venables, who was given a new identity on release from prison, had breached his parole conditions by visiting Merseyside.
He had developed drug and drink problems, began acting anti-socially and told friends his real identity.
It was found he had downloaded 102 indecent images of children and had been distributing indecent images.
He will stay in prison unless the parole board decides he no longer presents a risk to the public.
The board has given no indication of how long it will take to consider Venables' parole application.
‪