Everton FC honours Hillsborough Family Support Group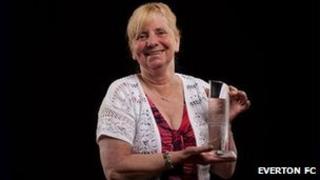 Campaigners who fought for justice for the Liverpool fans who died in the Hillsborough tragedy have been honoured by rival club Everton.
The Hillsborough Family Support Group (HFSG) was honoured at the club's annual awards ceremony on Thursday.
HFSG chair Margaret Aspinall said the organisation was surprised to receive The People's Club award.
Everton chairman Bill Kenwright said the club saluted the Hillsborough families' "tremendous bravery".
The People's Club Award is given to individuals or groups embodying the ethos of the club's motto Nil Satis Nisi Optimum (Nothing but the best is good enough).
'Tremendous bravery'
Previous winners have included former Everton stars Brian Labone and Alan Ball.
Mr Kenwright said the club had paid tribute to the group for its campaigning which helped force the landmark decision last year to reopen the inquests into the deaths of 96 Liverpool supporters.
They lost their lives as a result of the crush at the 1989 FA Cup semi-final against Nottingham Forest, held at Sheffield Wednesday's Hillsborough stadium.
"We brought this award back this year for quite obvious reasons," said Mr Kenwright.
"Something happened in this city in the autumn of last year. We at Everton Football Club saluted the tremendous bravery of the families of the Hillsborough disaster.
"They have had the greatest achievement in football on Merseyside this year."
'Absolutely fantastic'
Mrs Aspinall said "It was a really big surprise. We never dreamed we were going to get this award from the club.
"I think it's absolutely fantastic, and on behalf of HFSG I'd like to say the utmost thanks."
As chants of "Merseyside, Merseyside, Merseyside" echoed round St George's Hall she praised Everton fans for their "tremendous support" for the Hillsborough campaign.
In September, the Hillsborough Independent Panel exonerated Liverpool fans for any responsibility for the tragedy and instead blamed police and other agencies for the disaster.
It also highlighted the subsequent cover-up by South Yorkshire Police.