Boy, 11, joins Chelsea stars in Europa League celebrations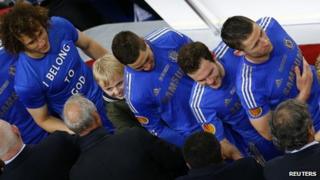 An 11-year-old boy from Liverpool shocked friends and family by joining Chelsea players as they collected their Europa League winners' medals.
Liverpool fan Louis Kearns was seen by millions on television alongside David Luiz and Fernando Torres as they received their awards.
Louis, described as a "cheeky chap", attended the match with his father as they are both "avid football fans".
It is understood Chelsea FC has no idea how he gained access to the team.
Louis' aunt Francesca Kearns, 28, said: "I was watching the game, but I wasn't paying much attention to it. I've then seen a blond boy walk past the screen and I said 'I'm sure that's our Louis'".
"We were just laughing about it as he seems to get himself everywhere. As Torres went up to get his medal, he was waiting behind him and we realised it was him."
Louis was away from his father for "no longer than five or 10 minutes" and was in sight of him at all times.
'Seize the opportunity'
Ms Kearns added: "Torres is his favourite player and Rafa Benitez was his favourite Liverpool manager. He saw the opportunity to get a photograph with Torres, he saw a little opening and he got through it and ended up on the pitch, he then followed and climbed the stairs behind Torres".
"He is confident and he seems to seize the opportunity, but I think he's now overwhelmed, he can't believe what it has caused. Twitter has gone crazy, everyone is asking who he is."
Officials at Louis' junior football team in Liverpool said it will be "his claim to fame for years".
Steven Williams, treasurer of Farmers JFC in Clubmoor, said: "We've had a few players over the years that have been professional but I think he's the first that's actually lifted a European trophy."
Television pictures showed Louis shaking the hand of a bemused UEFA president Michel Platini as the players prepared to lift the trophy.
A UEFA spokesman said: "The young boy in question was quietly removed once he got spotted on the ceremony tribune."
Louis Kearns also plays for Custy Lee Jones junior football club, who finished second in the under-12 division of the Scotland Road Junior Football League.
Chelsea beat Benfica 2-1 at the Amsterdam Arena on Wednesday.