Merseyside Police missed bullets in victim Jason Osu's car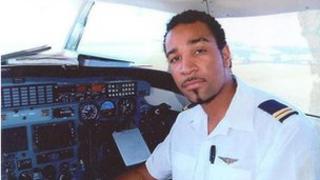 Forensic tests of a car in which a man was shot dead failed to find two bullets, police have said.
Jason Osu, 31, was shot five times on 19 November, at the Beauclair Drive and Woolton Road junction in Liverpool and died a week later in hospital.
Merseyside Police said an inquiry had started to discover why the bullets were missed during the search.
Six people have been arrested on suspicion of Mr Osu's murder and released on bail.
Currency trader Mr Osu was shot as he parked a black Mercedes in the driveway of a house in the suburb of Wavertree.
Police recovered 191 pieces of evidence following the car's examination by forensic and ballistic experts.
A force spokesman said the car was recently returned to its owner who found a bullet head inside. When the owner told police, they carried out another search and a second bullet was found.
He said though it "seemed inconceivable" that they were missed during the initial search, it was "highly probable" that they became dislodged when the vehicle was returned to its owner.
The spokesperson said an internal review was under way to discover why the items were missed.