Royal Liverpool Hospital: New design unveiled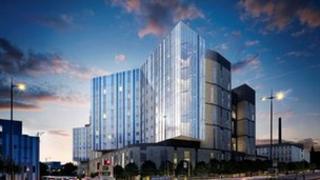 The design for the new Royal Liverpool University Hospital has been unveiled.
The new hospital will be built next to the current one, on the same site, and will open in 2017.
Construction company Carillon will work on the project after the funding was approved by the Department of Health and the Treasury earlier this year.
Once services transfer into the new Royal, the current Royal will be demolished and the surrounding area will be landscaped.
The planned research facility, called Liverpool BioCampus, will then be built on the site of the old hospital.
The new hospital will cost about £335m, with funds coming from the government and the private sector.
Cutting edge
Royal Liverpool and Broadgreen University Hospitals NHS Trust said it would be the largest hospital in the country, providing all single en-suite bedrooms for patients.
There will be 18 theatres and 23 wards, with the emergency department being one of the biggest in the North West.
The trust said the equivalent of 750 full-time jobs would be created throughout its four-year construction.
Aidan Kehoe, chief executive of the trust, said: "We are absolutely thrilled to unveil the design for the new Royal today.
"The Royal is at the very heart of our city and the creation of a world-class, cutting edge hospital will transform healthcare in Liverpool.
"It means that we can create the Liverpool BioCampus, which will spearhead the transformation of the Knowledge Quarter into a bustling and cosmopolitan hub.
"It is a unique opportunity to put the city on the world stage, along with cities like Boston and Singapore. This is incredibly exciting for the people of the city."
Helen Jackson, director of strategy and redevelopment at the trust, said: "The new hospital has been designed with patients at the very heart.
"Many rooms will offer spectacular views of the city. There will be lots of natural light, art, colour and it will be much easier for people to find their way round.
"The whole environment will be much more attractive and welcoming. It is for the people of the city."