Black-throated monitor lizard stolen in Liverpool pet shop burglary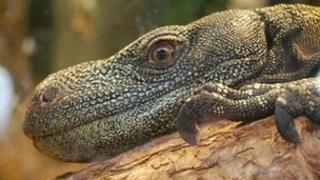 Staff at a pet shop in Liverpool have been left "extremely upset" after a large lizard was stolen during a burglary, police have said.
The 5ft (1.50m) black-throated monitor lizard was taken along with "an amount of cash" from Barks Pets in Walton on Monday night.
Sgt Georgina Minnery said it was important to find the reptile as it needed "specialist care and attention".
She added the lizard was "not worth a huge amount of money".
Money was also taken from a neighbouring business, EB Jones Garages, during a second break-in which police said happened at around the same time.
The missing lizard is described as being dark green and black in colour, with around half its length being its tail.
Ms Minnery said its owners were "very concerned about its welfare, particularly as it requires specialist care and attention".
"Without this care it may become ill or even die," she said.
"I would appeal to anyone who may know of the whereabouts of the lizard or who may have been offered this animal recently to contact us, particularly if you have concerns about its origins."