Yellow Duckmarine drivers in unfair dismissal claim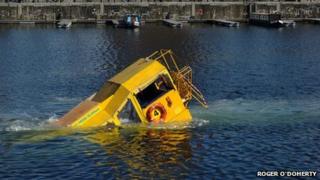 Two former drivers of Liverpool's amphibious tourist vehicles the Yellow Duckmarines are claiming they were sacked for raising safety fears.
Their tribunal for unfair dismissal will be heard just over a week after one of the vehicles sank in the Albert Dock while on a tour of the city.
The union Unite claims the men were forced out as they were "vociferous" regarding health and safety issues.
Yellow Duckmarine bosses were contacted but were not available for comment.
The tribunal is due to take place next Tuesday and Wednesday in Liverpool.
'Too old'
The World War II vehicles take in the city's sights on land and water.
One of them started to sink in the Albert Dock last Saturday.
Passengers were moved on to a pontoon and none of them went into the water. An internal inquiry is now under way, and the Maritime and Coastguard Agency is investigating.
Franny Joyce, regional organiser for Unite, said: "We tried to to sit down with the company and resolve the issues, they agreed but at the last minute refused us access and embarked on a campaign to get rid of the employees.
"In the end they think there was a group of seven men who were trying to sabotage boats. Three have been dismissed and four have resigned."
Mr Joyce added: "They [the duckmarines] were sinking in World War II on D-Day, it is now 2013 and they are allowed out on the water in Liverpool. It's crazy."