Yellow Duckmarine sinks in Albert Dock in Liverpool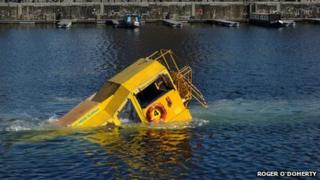 An amphibious tourist vehicle sank in the Albert Dock, Liverpool, while on a tour of the city.
The Yellow Duckmarine started to sink at about 12:45 GMT on Saturday.
Passengers were moved on to a pontoon in accordance with safety procedures, said a tour spokesman. The vehicle then sank fully as it was being towed away.
The vehicles are a popular tourist attraction and take in city sights from land and water. They are staying on land during investigations.
An internal inquiry into the cause of the sinking is under way.
Diamond Jubilee
Paul Furlong, product sales manager for the Yellow Duckmarine, said the "unfortunate" incident happened towards the end of a tour.
He said: "We are looking into what happened.
"Our crew are very experienced and acted quickly and correctly. No one was injured and everyone was disembarked safely."
Nobody went into the water during the sinking and the passengers were later refunded.
Tours on land took place on Sunday using other Duckmarines.
The Queen and the Duke of Edinburgh had a trip on a Yellow Duckmarine in May as part of the Diamond Jubilee tour.