Rhys Jones Community Centre in Liverpool to open in July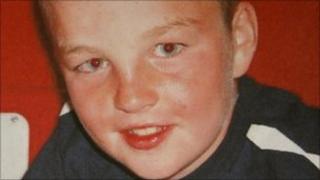 A community centre and sports pitches being built in memory of murdered Liverpool schoolboy Rhys Jones will open in July, council officials said.
Eleven-year-old Rhys, from Croxteth, was shot as he made his way home from football practice in August 2007.
Liverpool City Council said an agreement had been reached with builders Regeneration Liverpool for the centre to open for the summer holidays.
In 2008, Sean Mercer, 18, was jailed for life for killing Rhys.
The judge made a recommendation he serve at least 22 years.
'Fitting memorial'
A trust set up in Rhys's memory raised £255,000 towards the Croxteth centre, and the council contributed £250,600 and donated the land at Langley Close.
It will feature a community building with changing rooms, two all-weather floodlit football pitches and parking facilities.
Once open, the council will transfer management of the centre to the Alt Valley Community Trust.
Councillor Peter Mitchell said: "We are now making real progress on a project which was first proposed over five years ago.
"This centre and sports pitches will be a fitting memorial to Rhys."
Last year Rhys's mother Melanie Jones said "football mad" Rhys would have loved the facility, built close to where he was killed.
The schoolboy was shot in the car park of the former Fir Tree pub in Croxteth when he was caught in the crossfire between two gangs as he left a nearby football pitch.