Hundreds apply for £1 vacant houses in Liverpool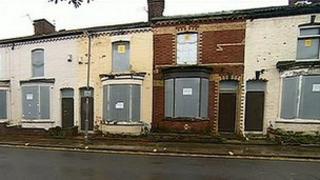 More than 800 people have expressed an interest in buying a house in Liverpool for £1, the council has said.
Liverpool City Council hopes to sell off 20 vacant houses in a pilot scheme to improve housing in run-down areas.
The sales are part of a plan to bring 179 council-owned homes in Granby, Kensington and Picton back into use.
The authority will now spend the next few months working out the best way to allocate the properties and in which areas they will be.
Councillor Ann O'Byrne said the council wanted to "find innovative ways of bringing properties back into use and attracting people back into our neighbourhoods".
New owners would be expected to refurbish the £1 houses and live in them for at least five years.